The Early History of the AeroGuidance Society (AGS)
Two of the original Aeroguidance Society members, Dick Allen and Ralph Jackson, contributed these reflections to Fifty Years and Still Flying published by the AGS in 2005.
You can read more about Dick in his AMA Hall of Fame Biography.
By Dick Allen, original member
Introduction
The formative meeting of the AGS took place in November of 1954 in the home of Dick Allen, who was duly elected as its first president. At that meeting several principles were established that continue to define the organization to this day:
The club shall be open to anyone interested in the Radio Control (R/C) hobby.
The AGS shall be an Academy of Model Aeronautics (AMA) chartered club. This means, among other things, that all club members must be members of the AMA. We are AMA Charter Club #441.
The AGS shall hold at least one AMA sanctioned contest per year. This contest has become the longest-running club sponsored R/C Pattern meet in the country.
The earliest club roster found was that of Dec. 6, 1957. It is believed that most of these listed members were the original charter members of the AGS:
| | | |
| --- | --- | --- |
| Dick Allen* | Glen Arnold | Rex Beach |
| Lou Brummel* | Gordon Gallagher* | Don Harrington* |
| Peter Hyde | Ralph Jackson* | Harry Lord |
| Bob Lord(Jr. Mem.) | Chet Osborn | Dick Payne |
| Frank Plessinger* | Gill Snow* | Dick Spencer |
| Wally Spry* | Burr Twining | John Woodruff* |
Unfortunately, this 1957 roster did not identify officers. Those members identified with an * are included in the group photo below.
The earliest known group photograph of the AGS is shown below. It is of an early club meeting circa 1958 at the home of Ralph Jackson in Vestal.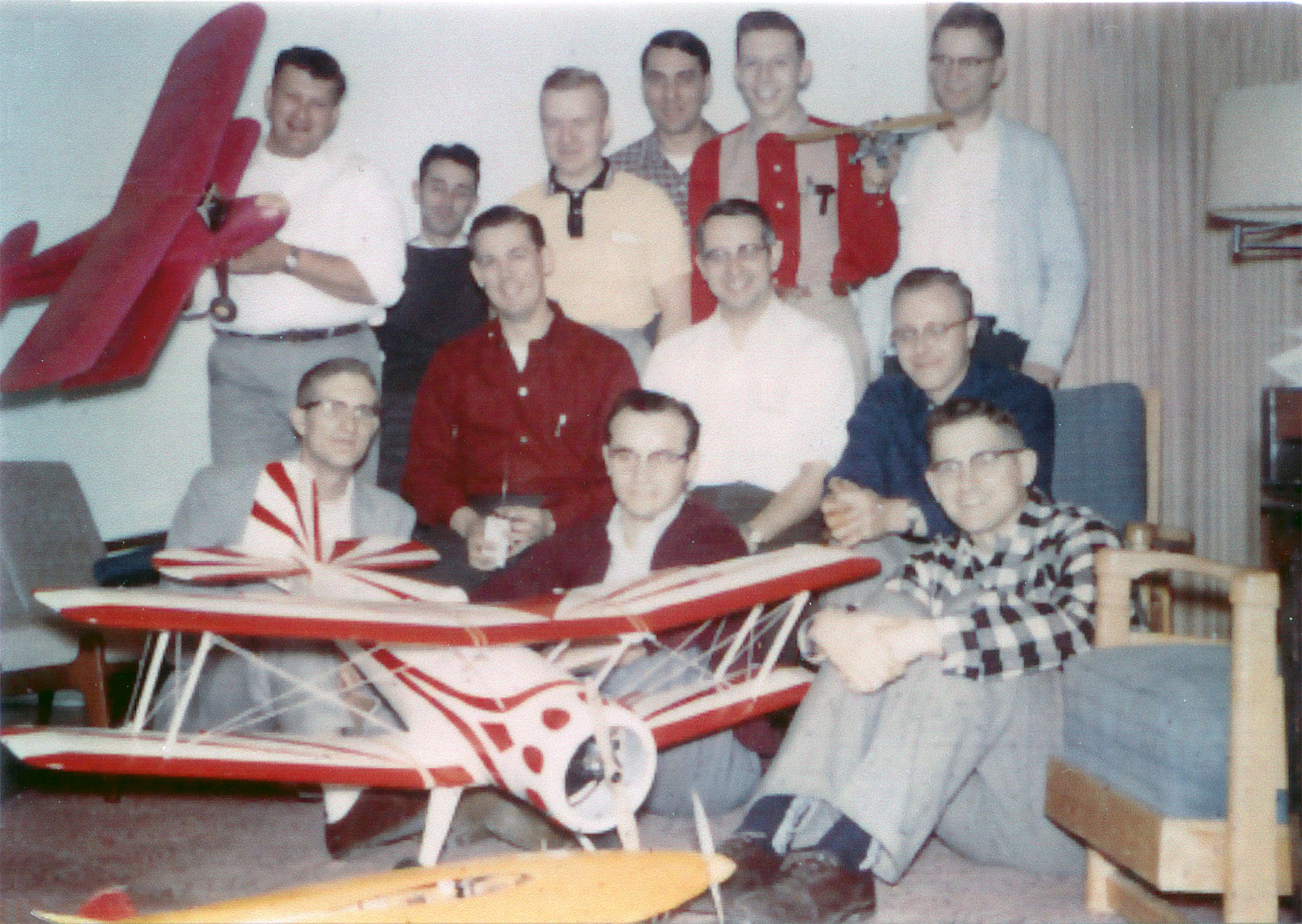 By Ralph Jackson, original member
In 1953 the FCC provided access to a radio frequency which could be used for controlling model airplanes without requiring a license. The frequency was 27.255 Mhz. Having only one frequency required that only one airplane at a time could be flown at a local flying field. However, having that frequency available caused a large increase in radio control activity. In 1955 there were at least twelve fliers active in our local area so Dick Allen and Ralph Jackson decided it was time to start an R/C Club. We invited the 12 flyers to the first meeting which was held at Dick's home in Endicott. Of those twelve, I can only remember a few whom I think may have been among the original club members. They were: Dick Allen, Ralph Jackson, George Brooks, Burr Twining, Chet Osgood, Gordon Gallagher, Bernard Fox, Stu Landon, Frank Plessinger and Frank Ganger. I believe that SM Landon was a B-17 pilot in World War II.
As time went on, the club By-Laws were written and the club name "Aeroguidance Society" was selected. I believe that the first club president was Dick Allen and that he also proposed the club name, which was selected from several suggested names. One important feature of the By-Laws was the provision that an annual Pattern Contest be held. In those days, there were several local fields, which could be used for flying. They included what was then IBM Owego property and is now a new building, hangar for Lockheed Martin's helicopter landing area. Another place was an empty field near where the Vestal Wal-Mart is located. There was also a good field parallel to Front Street in Binghamton. I believe that the first field which the AGS rented and used as the official club field was parallel to Route 26 in Maine near the intersection of Route 26 and the road which goes to what is now the Greater Binghamton airport. Later, the AGS purchased a field in Maine, which was used for many years. There were some difficulties with the neighbors so we sold that field and purchased our present field in 1975.
The grass on the field in Maine was mowed using an interesting method. A removable post was installed in the center of the take-off area and a rope as long as the radius of the take off area was connected between the post and a lawn mower. The mower engine was started and the mower traveled by itself in a circular pattern around the post. The rope wound around the post reducing the rope length each revolution until the take off area was completely mowed.
In the early days, the airplanes were powered by two-stroke, engines using gasoline fuel. However alcohol based glow fuel was introduced and soon became the most common fuel. Hand starting was the most common method. There were many kits available. My first successful model was built from a kit from Berkeley models, which was a popular source then.
The models in those days were generally of open framework, balsa stick construction. The glue was model airplane cement such as Ambroid. Common covering materials were silk and paper. Clear and colored model airplane dope was used for finishing.
The controls were quite different from what we have today. Some of the radio equipment was handmade but most of the control surface actuators were commercially available then. In the early days it was common to use a large transmitter sitting on the ground with an automobile battery supplying power. A small hand held box with control switches was connected to the transmitter. The early control surface actuators were usually escapements. These were gadgets, which were powered by rubber bands, and had magnet controlled rotating parts, which moved the control surface in steps responding to pulse actuated signals from the transmitter. Most of the very early airplanes had only rudder control.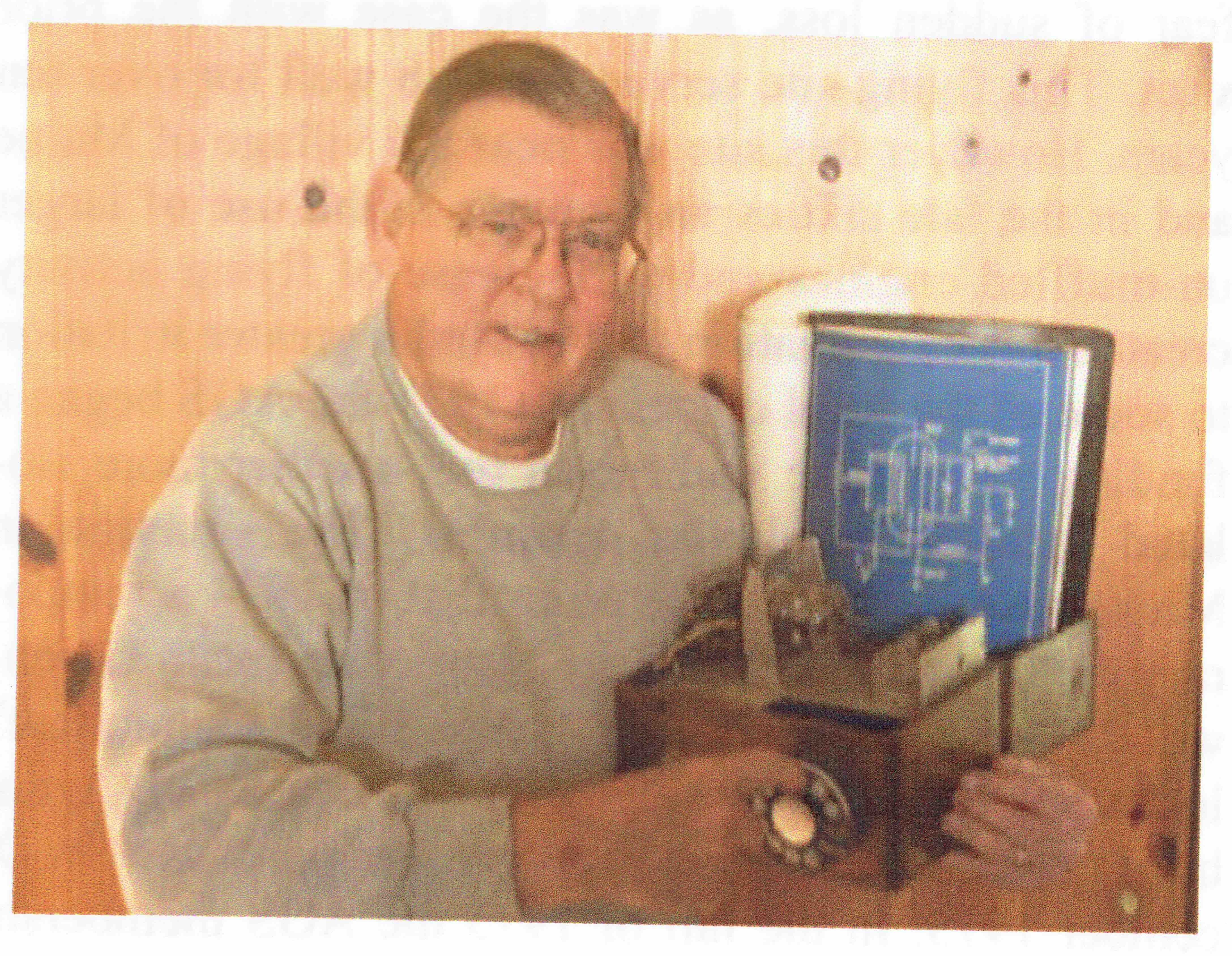 Pictured above is Don Harrington, an early Aeroguidance Society member. Don is shown with his 1947 transmitter. Don used the R/C flight package as his MIT thesis, which is shown behind the transmitter, dial three for left rudder!
---
An old photo from the AGS archives